Save Time and Money with a Priority First Share Draft (Checking) Account!
---
NO MONTHLY SERVICE CHARGE! NO MINIMUM BALANCE REQUIREMENT!
Overdraft Protection
---
Transfer From Share Savings
You may elect to have overdraft protection from your Share Savings account at PFFCU. If you do elect this service, if an item is presented for payment against your share draft account and there is not sufficient funds available to pay it, we will transfer available funds from your savings account to pay it. There is no charge for this service; however, there are limitations on the number of such Electronic Fund Transfers we may perform in a month. Please refer to the Electronic Funds Transfer Disclosure, Section 2, Transfer Limitations, for more details.
Transfer From Line of Credit
If you have a PFFCU Line of Credit, you may elect to use it as overdraft protection for your share draft account. If you do elect this service, if an item is presented for payment against your share draft account and there is not sufficient funds available to pay it, we will advance funds from your Line of Credit (up to the available limit) to pay it. There is no transaction fee for this service; however, interest will begin to accrue on the advance amount from the day it is deposited into your share draft account.
Courtesy Pay
---
We're Here to Help You!
Courtesy Pay is a non-contractual, discretionary service of paying overdrafts. This program protects your financial standing and provides a measure of protection against human error. Courtesy Pay is available only on personal Checking Accounts. You must meet each of the following criteria to be automatically enrolled in Courtesy Pay: 1) Account is in "good standing", defined as an account that has not caused a loss to the Credit Union, 2) Share Draft account opened a minimum of 90 days, 3) No excessive NSF activity and 4) No fraudulent transactions completed/attempted by you.
Courtesy Pay costs nothing unless it is used to pay checks, ACH debits, recurring debit card transactions, Online Bill Pay payments or any other payment or withdrawal request for more than is on deposit in the account. It allows the Credit Union to pay an overdraft transaction from a Checking Account instead of declining the transaction or returning the check unpaid.
Courtesy Pay will only be activated when funds available through other overdraft arrangements have been exhausted.
You may OPT-OUT of Courtesy Pay at any time by notifying your branch. If you opt-out of Courtesy Pay entirely, overdrawn items will be returned unpaid and you will be charged a fee for each item returned unpaid.
You must bring your account to a positive balance within 30 days from the date of the overdraft.
You will be charged a Courtesy Pay fee of $28.00 only when funds available through other overdraft protection have been exhausted
Direct Deposit
---
Fast. Safe. Convenient.
Direct Deposit is the fastest, safest way to deposit your paycheck. Your pay is electronically transmitted to the bank and is in your account on payday morning. No rushing to the bank at lunchtime or after work, and no waiting in traffic or standing in line to deposit your paper check. With Direct Deposit you save your precious time, gasoline and the paper your check and deposit receipt are printed on.
To start direct deposit of your paycheck or any recurring payment, simply contact your employer's Human Resource Department or the agency disbursing the funds and provide your account number and PFFCU's routing and transit number: 243379873. See example below. Social Security recipients can visit www.ssa.gov/deposit or call Social Security at 1-800-772-1213.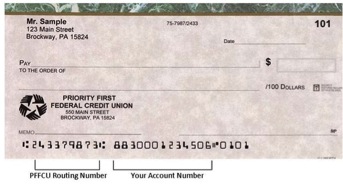 ATM & EMV Debit Cards
---
EMV Debit MasterCard
If you have a share draft (checking) account with Priority First, you can request an EMV Debit MasterCard®. Priority First's EMV Debit MasterCard® can be used to access your funds from ATMs as well as make purchases at millions of merchants worldwide. EMV is short for "Europay, MasterCard and Visa" and is the new global standard to authenticate chip-card transactions. Our EMV Debit cards utilize the latest technology to protect your in-store purchases. These newly improved cards offer added security to help safeguard your card from being breached at merchants.
The embedded chip works by authorizing transactions with a single-use code, protecting your card from unauthorized use. Instead of swiping the card, you'll insert it into the front of enabled point-of-sale terminals and leave it there until the transaction is complete. For those merchants and ATMs that haven't transitioned to this upgraded technology, you may still utilize the magnetic stripe and swipe your card. Depending on the retailer, you may be required to input your PIN, instead of signing for your purchase.
Card Access
You may access your accounts with Priority First Federal Credit Union via an EMV Debit MasterCard®. You will receive a PIN for your card when it is issued. If you would like to change the PIN to one that is easier for you to remember, take the PIN you were issued to the ATM machine with you, use it to access your account and then choose the "Change PIN access" button.
The daily ATM withdrawal limit on your EMV Debit MasterCard® is $500 and the daily POS limit is $1,000 for a total daily limit of $1,500.
If you use your EMV Debit MasterCard® as a debit card at a POS (Point of Sale) terminal with your PIN, Priority First will not charge you for this transaction. If you push the button for "credit" or say "credit" when paying with your EMV Debit MasterCard®, the amount of your purchase will still be deducted from your share draft account. Priority First does not charge a fee for using your EMV Debit MasterCard® this way. If you sign up for a recurring payment on your EMV Debit MasterCard® and there are not funds available in your account to cover it, you will incur a fee. Please refer to the Fee Schedule.
MasterCard SecureCode
Further protect your purchases with the added security of MasterCard® SecureCode™. Once you've registered and created your own private SecureCode™, you will be automatically prompted by your financial institution at checkout to provide your SecureCode™ each time you make a purchase with a participating online merchant. Your SecureCode™ is quickly confirmed by your financial institution and then your purchase is completed. Your SecureCode™ will never be shared with the merchant. It's just like entering your PIN at an ATM. Learn more or sign up here.
Lost or Stolen Cards
To report your ATM Card lost or stolen, call the Credit Union at (800) 368-0739. After normal operating hours, call (800) 528-2273.